The Midwives Collective & Gallery
presents their
Grand Opening Celebration featuring:
Organic Machines
Recent works by Emerging Artists:
Lauren Albert
Torie Senseny
Catherine Badger
September 12th - October 4th
Grand Opening Reception:
Friday, September 12th, from 6pm-10pm
The Midwives Collective & Gallery is located at:
1241 Carpenter St., Second Floor, Suite #2
Gallery Hours: Saturday NOON-5pm
Or by appointment
Contact info:
Email: themwc@gmail.com
Myspace: www.myspace.com/themwc
Website: www.midwivescollective.com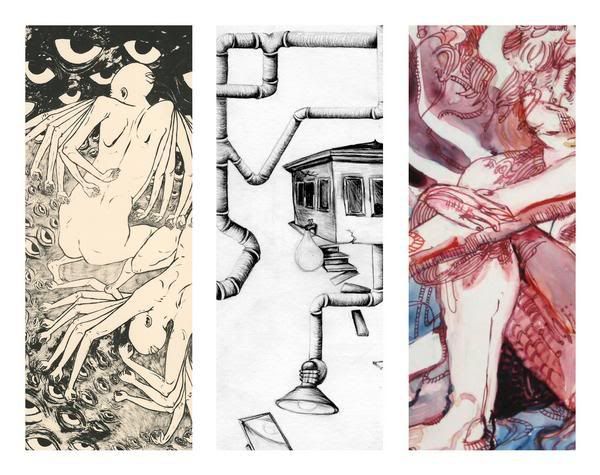 We are thrilled to announce that in May 2008 we moved into our spacious new gallery in South Philadelphia!
Lauren, Torie and Catherine are '08 graduates of Philadelphia's Moore College of Art & Design. They are the first recipients of the first-annual Midwives Collective & Gallery Exhibition Award. Organic Machines will be our premier exhibition to help celebrate our Grand Opening in September.
Through painting, drawing, video animation and sculpture, these three artists have created their own self-contained worlds that are burdended with the mechanics of their own existences. However, through discovering relationships between nature and machine as well as encountering rhythmic images, the viewer can find solace through the feel of organic movement.