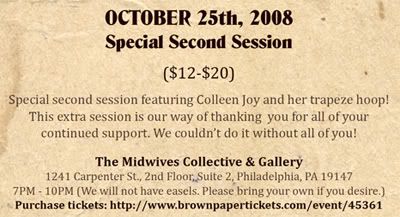 excerpt graphic:
www. nicolablack. com
Just one more event in our month long 1 year anniversary celebration! Be sure to get your tickets for this special second session of Dr. Sketchy's Philly! Featuring the lovely and talented Colleen Joy, who will be modeling while suspended on her trapeze hoop, this session will be set in the more intimate Midwives Gallery in South Philly.
Please join us:
Saturday October 25th 7-10PM (doors open at 6:30PM)
Midwives Collective Gallery
1241 Carpenter Street, 2nd Floor, Suite 2
Philadelphia, PA.
Dr.
Sketchy's Philadelphia is brought to you by
Nicola Black Design, L. L. C.
and
The Midwives Collective.